Position: South 10 degrees 55 minutes; West 12 degrees 22 minutes – Just south of Ascension Island.
This one's a little long, partly because of a foodie stuff. Those of you not interested in culinary pursuits can skip that part! 🙂
4PM, Friday afternoon
Another nice day, first going northerly, then gybing over and going in a westerly direction. Matthew, who is giving us weather reports, said that the wind will ease this afternoon, and it seems to be doing just that – from mostly 20 to mostly 13 – 18 knots.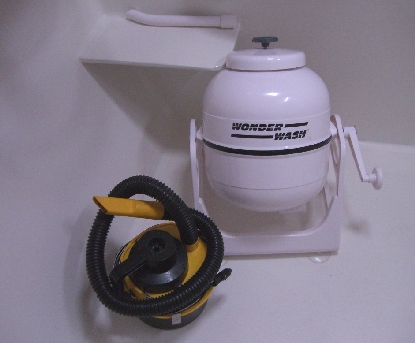 Yesterday I tried the "washing machine" ("Wonder Wash" – shown here with the 12-volt vacuum cleaner we've had for years, which works well) and decided it was a bust. Sure, it cleans the clothes. But the setup is a hassle, the axle holding the capsule in its surrounding structure slipped out several times as I turned the capsule, the feet either stick where you don't want them to, or don't stick where you do – such as the non-skid surface of the afterdeck (back porch), which is where I took the contraption to do the capsule-turning. It also uses up a lot of water, which is a no-no.
So, I'm keeping life simple and washing items in the galley sink, then hanging them out to dry on the after deck. I'm using some really strong plastic clothes pins, which is good, because it's quite windy when we're going 8 knots or more, and we could easily clothe old Neptune and his friends if the admiral isn't careful. You can see the colorful clothes pins, just along the right border of this photo. Any unused line is fair game for hanging the wash…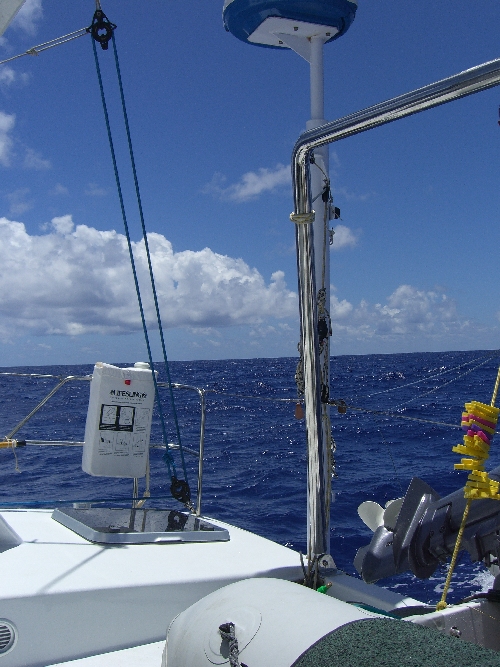 We're changing our schedule, to see if we can both get more sleep – especially that long, uninterrupted sleep. We're hoping to eat an afternoon supper around 4PM (which it is now, but PZ is still napping, so we'll be a little late today), then I will go to bed – and Philip will keep watch until 1AM. Hopefully by then I will have had more rest than I've been getting after dinner, and I won't have trouble staying awake until he gets up in the morning. It was a real struggle last night. I had the "head dropping, jerk up with a start" all through my watch. Both of us don't want to be that tired. Besides, when I've had enough sleep, I can write.
Meanwhile, the autopilot continues to keep us as close to our course (310 degrees by the compass) as the sails will allow, we continue to climb the swells and slide back down again, the canons are still with us, and, as usual, there is a very nice breeze blowing through the pilothouse. The plants are feeling pretty feisty since the garlic/detergent/oil treatment, and I planted a couple of spinach seeds today. Might be a silly exercise – we might be home before they sprout. We'll see.
Still alone out here. Saw one flying fish bird going from wavetop to wavetop, but that was all.
_________________________
2:40AM Saturday morning
Well, we thought the wind was going to ease, as was predicted, so when it got lighter at sunset, we decided to "shake out the reefs," as the saying goes – bringing the jib and the main to full power. Of course, as we were doing that, the wind came up again. So now the jib is at full power and there is only one reef in the main, instead of two.
We are zooming along again, going 8 to 11 knots for the most part, sometimes surging forward at 12 knots or more. We must be getting used to that; it doesn't seem as severe as it did at first. Although, whenever it happens, it's still really obvious.
A ship crossed our bow, way off on the horizon, on Philip's watch tonight.
I suppose I should mention food, for any of you "foodies" out there. We are still eating well, 3 weeks into this journey. The freezer is still packed with filet roasts, about as long and thick as a smallish person's forearm. I can get three dinners from one roast – either as a steak dinner or by cutting the filet into bite-sized pieces and adding it to an Italian, Chinese, or curry dish. In Cape Town, the beef filet was the most tender cut of meat I found – and surprisingly inexpensive, because beef with bone in it is more valued by a large percentage of the population, according to Matthew, who used to own a restaurant and is a first-class foodie in his own right.
We are still working on fresh fruits and veggies. I have come to appreciate mangoes, which make a lovely fruit ingredient for our after-main-meal salad at dinnertime. By now we have used up any store-bought lettuce, either as a head or in bags, so we are drawing from the garden. In spite of the attacks on them, the plants are still yielding enough for our salads. Not a lot, but enough. I'm giving Philip the more tame lettuces and I'm eating the more "sophisticated" (LOL) plants, such as the celery leaves and parsley and a lettuce that I don't know the name of – but it sure looks like dandelion. 🙂
By the way, if any of you find yourselves on a long sea voyage, and want to take some peppers along (green, yellow, orange, red), use them quickly. They were the first to go, and they went dramatically and all at once.
Last night I sliced up a Cape Town sweet potato – which is yellowish inside, not orange – on the mandoline that we bought in Cape Town. It's a bit of a bother, but it slices veggies much thinner than I could by hand, and once it's set up, it goes quickly. I deep-fried the slices. As soon as they came out of the oil, I sprinkled Ina Paarman's Potato Spice on them, and made a dip of the last bit of sour cream from "Woolies," (the classy food store throughout Cape Town – Woolworths) and my "white sauce," which is light mayo, Worcestershire sauce, brown sugar, olive oil, Potato Spice and Italian Cheese Sprinkle (again, Ina).
I added a bit of beef stock granules from Woolies to the dip. It was a good combination – the dip and the sweet potatoes. We also had a filet steak and a veggie side dish I made from onions, garlic, basil from the garden, zucchini from St Helena, and a bunch of Italian spices. I added parmesan cheese on top of the veggie side dish. Philip is now calling me a chef and asked me if I wanted to wear a funny hat while cooking.
I think we'll have enough fresh veggies and fruit to last another week or two, then it's can time. Fortunately the canned fruit was pretty good in the Cape Town stores, so I don't think it will be that different. I will miss the mangoes, however. We used to put cantaloupe in the salad, along with the greens, but there simply weren't any cantaloupes in the stores when we left. So first we were eating papaya, which was good but ripens quickly. Now we're eating mangoes, which keep well for weeks and have a great taste and texture. If I had known they were going to be so good and keep so well, I would have bought more of them.
Philip is still eating desserts from Woolies – they make an eclair dessert that is out of this world. It's meatball-sized eclairs – a round pastry shell, with custard inside, and dark chocolate on top of each one – sitting on a base of chocolate mousse about an inch thick. Ahhhh.
We're almost to the end of the Woolie's desserts, so I will start baking. Still have plenty of propane – about 1 and 3/4 bottles – so I think I can afford some baking time. I'm not eating any dessert, since I am going to bed right after dinner. I've lost a little weight as a result, which is fine with me.
The full moon is lighting our way tonight – it's as bright as day out there. Beautiful, too, with the stars and clouds and moon reflected on the water.
Well, that's enough for one "short check-in email"!
Much love,
Philip and Kristin