It's finally happening. We're going home to New England, an 8,000-mile journey, on Horizon, our new Atlantic 48 catamaran. We are leaving tomorrow, Monday, April 20, 2009.
We've been in Cape Town since October 27, 2008, getting Horizon ready for sea. Here we are on one of the sea trials, just outside the Cape Town Harbor, several weeks before we left on our journey.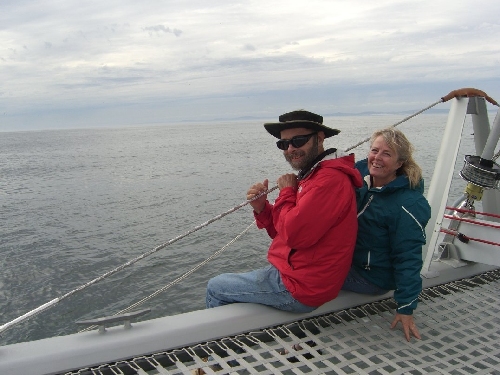 When you sail from one harbor to another, the first harbor is really important – because all of the subsequent officials base their decisions on the first place you left. In preparation for our departure, we went to customs last Friday, where we waited in line for 55 minutes, only to be told we had to go to Immigration first.
So, we went to Immigration, only to be told by a woman who is legendary for her rudeness that we had to check out within 24 hours of the time we were actually leaving. Sigh. We went back to the boat, filled out the forms she gave us, and waited until Sunday.
It's Sunday evening. We went back to customs and immigration this afternoon. The was plenty of parking, there was no waiting in line, and no one in the offices except us and each officer. One nice man in Immigration, stamp-stamp-stamp. Another nice man in Customs, stamp-stamp-stamp.
Both the Immigration and the Customs man rolled their eyes when we mentioned that we had to return because of the 24-hour rule. Apparently no one else holds sailors to it; anyone else would have just stamped our forms. Oh, well. All's well that ends well. Our papers are all in order now.
The boat is filled with food, and we have storage room left over. That's good. Philip filled the diesel tanks today, and I'll fill the starboard water tank tomorrow so we leave with full water tanks.
But let's go back a bit to the beginning of the story.
When we first came to South Africa to "pick her up and sail her home," we stayed in Gordon's Bay, high on the windy hill in a rented house. It was so lovely there.
____________
The view was outstanding. We often ate dinner on the deck, as the sun went down over the Bay. Here are some shots Philip took from the house's deck:
_____________
_____________
_____________
We were in South Africa for months, but we were so busy we only went sight-seeing a couple of times. Once to Cape Point and Cape of Good Hope, and once to the top of Table Mountain.


_____________
The last few months we stayed in the V&A Waterfront, a beautiful marina/tourist area:
_____________
Now that I've set the scene, let's go back to our story…
We launched the boat in November, 2008, in Elliot Basin. Here are some shots from that happy day.
We met some great people in South Africa – some new friends. Here are a few…
Now on to the boat itself, and our preparations…
.
_____________
When we leave tomorrow, we will have strong winds taking us out to sea, as this forecast shows (click to enlarge).
Down in the Cape Town area, we will have winds in the 24 – 28 knot range indicated by the orange area. The direction is perfect; the wind will basically be  lowing us right where we want to go. Once we leave the coast of Africa, about 3 days out, the seas will settle and the wind will be more in the 14 – 20 range, which is great. St Helena is the tiny black dot just below the "N" on the word "Ocean" – we may stop there – depends on the wind. You can just see the eastern tip of South America on the left side; that's where the doldrums will probably be.
And so, finally, the journey begins. The boat is truly ready, all systems are "go." We have learned many things, and have met some wonderful people. But we are really glad to be going home.
Love,
Philip and Kristin