Current Time: 2:14 AM
Current Position: North 27 degrees, 10 minutes West 62 degrees, 06 minutes
Hi, Everyone.
Here's a shot of a sunrise after a storm, a shot I took on this leg of the trip: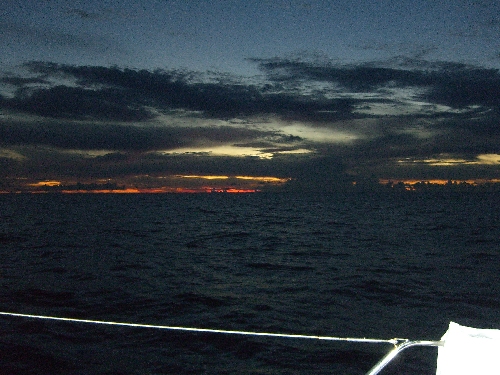 Busy day. Started out with a spectacular display, aft of us, put on by a squall that had lightning and lots of rain. It never reached us, but I put the spare GPSs in the oven anyway and unplugged the computers.
Most of the night and the morning, the wind was very light. We were doing only 2 – 4 knots. Late morning, we were affected by a close-by squall, and the wind picked up and changed direction several times. There was a lot of activity in the cockpit, adjusting the sails so they were set right. Then the wind died again.
There is more wind to the west of us, so we stopped heading straight for Bermuda, and set off towards Cuba, roughly. As we get closer to this better wind, it is veering around (going clockwise), which means we can turn with it, and start going north again. It's already starting to do that; I've been able to set the autopilot a few degrees higher on the compass as the night progresses.
We put up the large Code Zero jib this afternoon. It went well, thanks to Philip's working out the best way to lay it out on the trampoline before hoisting, and doing a sketch of it last time we were using that sail. It's still up now, and is helping us go faster than we would with the smaller jib.
For the last day or two, the swell has been crossways to the boat. This is her least favorite situation – or, more accurately, it's her inhabitants least favorite heading. The mainsail – the one on the mast – is fully extended, so every time a swell lifts one hull and then the other, the big mainsail flaps, which lifts the boom, which pulls on the lines connected to the aft end of the boom. There are the preventers, which go diagonally down from the end of the boom to the edge of the deck, and the mainsheet, which connects the boom to the traveler car, which moves along a track on the aft edge of the pilothouse. These lines protest every single time we go over a swell. The creaking makes a wah-ha, wah-ha, wah-ha sound. The only land-based equivalent I can think of is rusty hinges on a large barn door, with some little troll opening and closing the door every two seconds. It's not a happy sound. As we turn north, I'm hoping the swell will get behind us, and everything will quiet down.
Obviously, we are not stopping in Bermuda.
Several of you have said that my descriptions help you visualize what is really going on. I guess it's time to share my satellite phone email downloading experience. Remember, we are in the middle of the ocean. I'm relying on getting a signal from a satellite overhead.
When it's time to send and receive email, I turn on the sat phone, which is usually already connected to my computer via a USB cable. The sat phone is the size of a small brick, and has a rotating antenna on it. I hold the phone in my hand and start the signal search – moving it around in the air until I have 4 – 5 bars showing on the little display. They don't stay there – we are on a moving boat. They come and go, and when they're gone, the call can terminate, or the downloading can get even slower than the already-too-slow speed.
Once I have a decent signal, which might mean I have to hold it at arm's length while I use my other hand to operate the computer, I use the "dial" software to start a data session, and then, once the computer is "registered," I hit the "send/receive" button on the email program. Then I hold my breath. It's a delicate dance. The 4-5 bars I have showing on the phone's display may disappear at any second. Meanwhile, there's a window on my computer showing "Downloading message 1 of 22," tick, tock, tick, tock…"Downloading message 2 of 22," tick, tock, tick, tock. A 1kb message, which is the usual 3-4 sentence email, takes about 30 seconds. A 50kb message, which is one where someone hit "reply" without deleting the Update, can take 15 minutes…while I hold the phone and keep moving it slightly to make sure I still have 4 – 5 bars, and hope that the signal holds. When this happens, the email software decides that the server is taking too long, and puts a little message up on the computer screen. Do I want to wait, or stop? I have to hit the return button quickly enough, or the software will decide I want to stop.
If I lose a signal in the middle of this downloading process, I have to start the whole process over again, and the software, unfortunately, will start downloading the very first message of the 22 messages, so I end up paying twice to download the same message(s).
We do have an external sat phone antenna mounted on a pole on the port transom (flat part of the stern), which would mean I wouldn't have to hold the phone, and it would probably get a better signal than the one I get in the pilothouse. But it's connected to a data cradle (where you place the phone in a holder), which we couldn't get to work before we left Cape Town.
Now that you have this picture, you will understand my next request. Please ignore my upcoming birthday for now. That's what we're doing anyway, until we get home. I don't mind putting off turning 58 for a couple of days or even a week or two. I'm going to celebrate when we're back on land, with a McQuade's steak, and give Philip an excuse to take a motorcycle ride to get me one little item for the galley. So save any birthday ecards or greetings until I am back on land, in Mucho Bandwidth mode. I'll let you know when I'm back to normal high-bandwidth status. Thanks!!
Two ships today, more than usual. We saw a sail yesterday on the horizon, and Philip hailed them on the VHF. We had a nice, but short conversation with the French captain, who talked about some friends he knew in Newport associated with a boat there, and asked us to say hello if we met them. He was taking the boat to the Azores. When you've been at sea for 7 weeks, it's nice to talk with someone who is out here as well.
I've been meaning to ask Matthew about this, because he lives in South Africa but spent years in the States. I swear the man on the moon was upside down when we were in Cape Town, to the point where the familiar face wasn't really displayed – if anything, it didn't look happy. Now, as we go north, the face is starting to become more obvious. At the moment it's looking up; when we get home, it will probably be looking down, smiling contentedly, as I'm used to. If anyone has any insights on this subject, feel free to comment.
It's strange to be getting so close to home. This boat makes it so easy to live on board, you really don't feel like you're suffering for your sport/lifestyle. I'm sitting inside a pilothouse that is completely dry and homey, with a full view of the horizon and the rest of the boat. A breeze is blowing through. Food and other necessities are only a few steps away. Philip has even been teaching himself to play the piano, using a portable keyboard we have on board, in the pilothouse when he's on watch. Haven't heard anything yet, but am looking forward to it.
Well, it's time for me and the wah-has to sign off. Thanks for all the notes, both from dear old (as in a long time, not "old") friends and family, and new folks who are getting these messages "via via via," as Jackie said. I've enjoyed writing these notes, and am so happy that you've enjoyed reading them.
As Matthew says, when this is all over, "you guys have done something that few people have ever done, crossed both Atlantic oceans in a single stretch." With only one stop, in St Helena. I'm glad we did that. It was a magical place. Which reminds me, when we get back, and I have Mucho Bandwidth, we'll post pictures of St Helena, many other shots, and a couple of videos, on the blog.
Much love,
Philip and Kristin